Tel. +7(916)-985-9917 +7(916)-632-6653
Accommodation in Moscow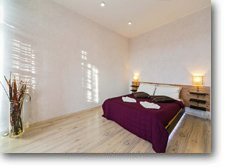 Looking for an alternative to a hotel room?
We offer a choiсe of fully furnished, comfortable and cosy apartments convenient location to stay a couple of hours or a few weeks.
Visiting Moscow you may discover most of the hotels are often overfilled, especially during international or local exhibitions. Renting an apartment not only the way to save money, but a chance make you really feel at home. All the apartments are tastefully decorated, have equipped kitchens, come complete with linens and towels, most have high speed internet, cable or satellite TV. There is an abundance of restaurants, cafes and stores in the vicinity of all apartments.
Whether you are coming to Moscow for business or pleasure luxury or budget furnished apartments are available as corporate apartment rentals or short term vacation rent.
Please note: special rates are set up for the dates 30.12.2022 - 07.01.2023! The prices listed on the website for this period are not valid!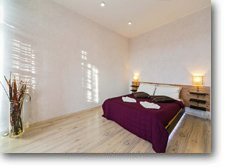 m. Universitet 4500- 5900 RUR/night

Spacy and comfortable one bedroom apartment near Moscow State University. Just after complete renovation, cosy stylish bedroom with soft lighting, walk-in closet. One of the best our apartments for short term rent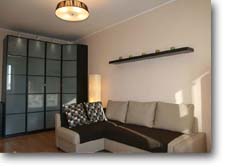 m. Proletarskaya 4000- 5500 RUR/night

Nice one bedroom apartment almost in the city center. Perfect location. Consierge. All amenities. All new furniture and kitchen equipment. 5 min walking distance to the metro station "Proletarskaya". First time in rent.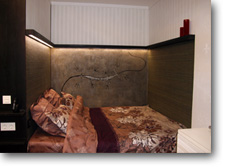 m. Ulitsa Podbelskogo 2500- 3500 RUR/night

Small but cosy studio in north part of the city. Modern style renovation. Located in greeny area, surrounded by parks and gardens. Perfect choise for budget accommodation.7 min by walk to the metro station. Never rented before.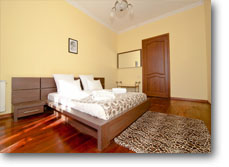 m. Kutuzovskaya 5500- 7500 RUR/night

Spacy one bedroom apartment located on Kutuzovsky prospect walking distance to international exhibition center Expocenter. Choosing this apartment for short term accommodation in Moscow you will take all the advantages of the hotel stay combined with comfortable living in a home environment.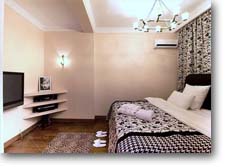 m. Kievskaya 5500- 8000 RUR/night

Luxury one bedroom apartment located in the heart of Moscow busines life. Close to everything : metro station, cafes and fashionable restaurants, boutiques.
Two separated rooms, each can be used as bedroom. Ten minutes by walk to the exhibition.
Closed parking place included. Sleeps up to four guests.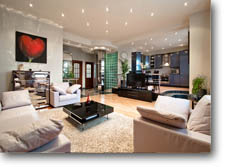 m. Kutuzovskaya 8000- 13000 RUR/night

Two bedroom apartment premium class available for short term and long term rent. Luxury style renovation, spacy bathroom and two cosy bedrooms. Short distance to Expocenter.
Only two minutes by walk to metro station "Kutuzovskaya". Spacy living room, fully equipped kitchen.

See all the apartments


Tel. +7-916-985-9917; +7-916-632-6653